While there is no doubting that Dell are among the best laptop brands in the world today, creating a quality 2-in-1 laptop is a whole different ballgame, but the Dell Inspiron 16 7620 is undeniably one of the top options on the market today.
There is a fine balance between the versatility of being a worthwhile 2-in-1 laptop and the performance expected with any standard Windows laptop. With the Dell Inspiron 16 7620, this line is adhered to beautifully and it really shines regardless of which configuration you're using it in. Compromises are few and far between which offers true value for money and ultimately a product you're proud to use.
Here are the Dell Inspiron 16 7620 specs:
| | |
| --- | --- |
| | Dell Inspiron 16 7620 specs |
| CPU | 12th Gen Intel Core i5-1235U or i7-1260P |
| GPU | Intel Iris Xe or GeForce MX550 |
| RAM | 8 GB or 16 GB |
| Screen | 16-inch FHD+ 1920 x 1200 or UHD+ 3840 x 2400 OLED |
| Storage | 512 GB SSD |
| Battery | Up to 8 hours |
Something for everyone
The Dell Inspiron 16 7620 does just about everything it can to appeal to a mass market. From the 2-in-1 capabilities to the above average power it harnesses, there really is something for everyone in this laptop. If you're not someone who is necessarily into specs, just know that even the base model of this laptop is going to offer you more than you need for just everyday use.
Integration of the Intel Iris Xe graphics mean that you can get away with entry-level gaming in titles like Valorant, League of Legends, and World of Warcraft. The Dell Inspiron 16 7620 doesn't have advanced cooling technology but you can always negate this by using a laptop cooling pad.
For content creators, you can easily get by with basic video, photo and audio editing tasks although anything too intense is likely to see a major slowdown unless you opt for the higher spec version. The biggest limitation might actually be the SSD but you can always turn to an external hard drive to help negate this.
If you do want to just invest in the Dell Inspiron 16 7620 as an everyday laptop, there is no problem with that at all. The quality on show means that you should get in excess of five years of life from this laptop and generally speaking, it's fantastic to use for browsing the web, writing documents, or just watching Netflix and YouTube.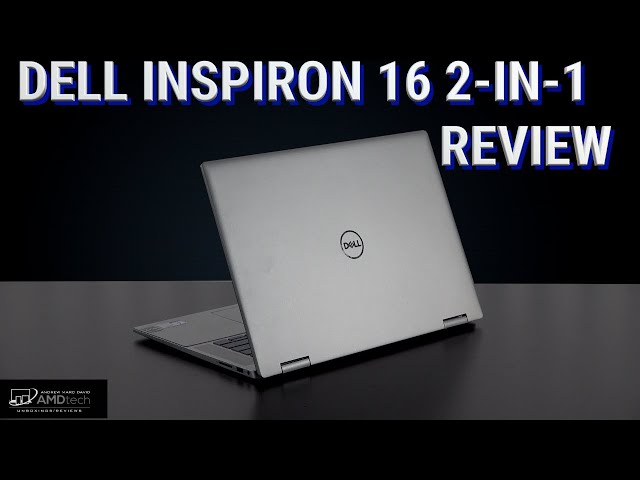 Portability, port-ability, and power
So, one thing that every modern laptop needs to be audited on before you make a purchase is how easy it is to transport, how connection friendly it is, and how fast it can go.
The Dell Inspiron 16 7620 passes these three tests with flying colors. While 16-inch laptops aren't ever 'easy' to transport without a suitable laptop bag, it needs to be noted that this laptop weights around 5 lbs and is less than 1-inch thick which should mean carrying it around is never too much effort.
On the connectivity front, the Dell Inspiron 16 7620 has the following ports:
2 USB 3.2 Type-A ports
2 USB-C Thunderbolt ports
1 3.5 mm headphone/microphone combo port
1 HDMI 1.4 (max output 1920.1080 at 60 Hz)
This is actually a really nice selection and the main bonus is the two USB Type-C ports which will be very helpful as more devices switch over to this type of connection.
Finally, the power. The Dell Inspiron 16 7620 has more than enough power in any configuration to be considered a premium everyday laptop. What I mean by that is you shouldn't run into any issues performing simply daily tasks and with the power left over, you can probably be multitasking across various browsers/programs and still experience no major slowdowns.
Putting on a display
One of the most appealing features that the Dell Inspiron 16 7620 brings to the table is the 2-in-1 functionality. This don't just mean that it has a touchscreen, but you can also fold the screen behind the keyboard and use it entirely as a tablet. The battery life is fairly even regardless of which configuration you use with around 8 hours of activity possible on a full charge.
There are many reasons why the 2-in-1 features would be useful, but ultimately it needs to come with a warning. The hinges on any 2-in-1 laptop are prone to faults if used improperly or even if they are simply overused. To ensure a product like the Dell Inspiron 16 7620 lasts as long as possible, looking after these hinges is crucial.
When it comes to the quality of the display overall, it's incredible value for money. Whether you go for the LED or OLED option, both are well above average thanks to a decent nit count and ComfortView feature.
You get a crystal clear 1080p integrated webcam which is becoming a more popular feature to focus on with remote working now fully integrated in modern life. For audio, a standard integrated microphone will get you by but doesn't feature noise-cancelling which could be an issue if you are in a busy environment. The quad Waves MaxxAudio speakers, however, are quite impressive and should reduce the need to use headphones when in private.
Verdict
The Dell Inspiron 16 7620 is a fantastic example of how to do a 2-in-1 laptop right and without making any real compromises to the standard laptop configuration.
Whether it's for work or play, I can't help but recommend this laptop, especially if you can grab it on sale. Dell are one of the best laptop brands for a reason and the Inspiron 16 7620 shows why.
Dell Inspiron 16 7620
The Dell Inspiron 16 is a standard bearer for 2-in-1 laptops with fantastic build quality, unrivaled performance and versatility that can keep up with hectic modern working life.