Apple boasts an impressive range of portable laptops – often considered the best laptops money can buy – that are perfect for work and study as well as leisure activities and creative pursuits. But one thing you may be curious about is whether any of the current MacBook offerings feature touchscreen capabilities, and, if they don't, which Apple products do offer a touchscreen experience?
With that in mind, here at Gear Nuke, we want to demystify the question of 'Are MacBooks touchscreen?' to help make sure you can pick the correct Apple product for your use case.
What is a touchscreen?
Not to get too obvious here, but having a touchscreen-enabled device means that you can control it by touching the screen. This means that you can navigate its systems with your fingers, and use gestures on the surface of the display to commit actions.
Tablets and smartphones feature this technology, making them great companions for reading, drawing and surfing. Some tablets and smartphones even feature smart accessories like the iPad's Apple Pencil to make the most of the touchscreen.
Are MacBooks touchscreen?
When it comes to the current MacBook range available on Apple.com, none of the units feature display-based touchscreen functionality, so you can't use the screen with your hands, styluses or smart pencils..This includes the MacBook Air M2 and M1, as well as the MacBook Pro 13-inch, 14-inch, and 16-inch.,.Each model does feature a Force Touch Trackpad, though, which you can design custom gestures for should you need them.
However, for MacBook Pro 13-inch users, there is a small rectangular touchscreen bar at the top of the keyboard, known as the Touch Bar. The Touch Bar functions as a dynamic extension to the keyboard and is context-sensitive, meaning it will change between apps and offer quick actions for the user to select.
Additionally, it's important to note that this hardware is only available on the MacBook Pro 13-inch, not the Macbook Pro 14-inch and 16-inch. Some older models of MacBook may also feature the Touch Bar, so if you do want this specific feature, just make sure to check the model details before buying.
Can I make my MacBook touchscreen?
While the MacBook is not touchscreen, there is a way to mirror or extend your screen onto your iPad using the Apple software tool Sidecar. Before starting this process, it's important to check your system specifications to ensure your machine is eligible to use this tool.
Once you've set up Sidecar, you can use touch gestures with your fingers or an Apple Pencil to interact with what's on your MacBook screen via your iPad. You can even add a Touch Bar to your iPad display, regardless of whether your MacBook has one or not. While using SideCar, it's worth noting that you can still use any external mice or keyboards, making it an excellent option for dynamic study sessions or creative projects.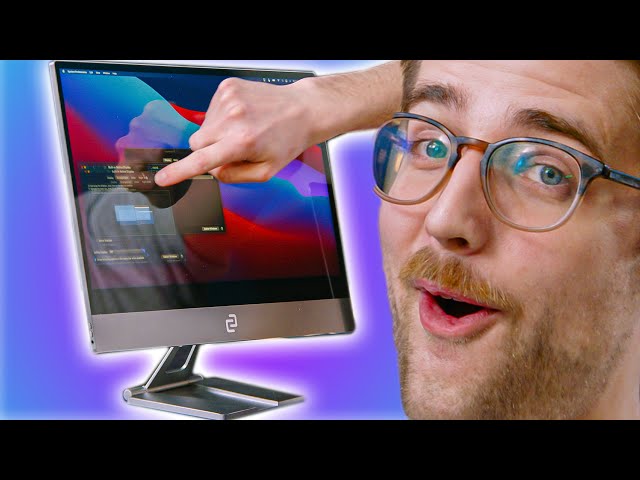 What Apple Devices are touchscreen? / Apple touchscreen devices for work and study
But what if you're looking for a fully touchscreen-enabled Apple device outside of the MacBook range? In that case, the iPad Air and iPad Pro series are fully touchscreen-enabled, offer Apple's signature software experience and can be used with additional accessories to create a laptop-like experience with the benefit of a touchscreen. Beyond that, the Apple iPhone and Apple Watch also offer touchscreen functionality and can be synced to your MacBook using iCloud.