Are the best ring lights always the biggest ones? No! Ring lights come in a variety of sizes and each one has its usefulness. There's no set sizing scale that a ring light maker needs to follow so there isn't anything stopping someone making a 200-inch ring light, although, we're not too sure who would buy such a monstrosity.
Back in the real world, let us take you through some of the most common ring light sizes available on the market and even help out with what size you might be looking for!
What are the common ring light sizes?
Ring lights are available in a variety of sizes including but not limited to; 6, 8,10, 12, 14, 18, and 22 inches. These are the most common sizes that you'll find and are suitable for almost any situation.
Ring lights don't necessarily have a strict guide on how big or small they need to be, which has lead to quite an open market where there is something for every need and every budget. Searching on Amazon, you can filter by size to make sure you're only seeing ring light sizes that are relevant to you.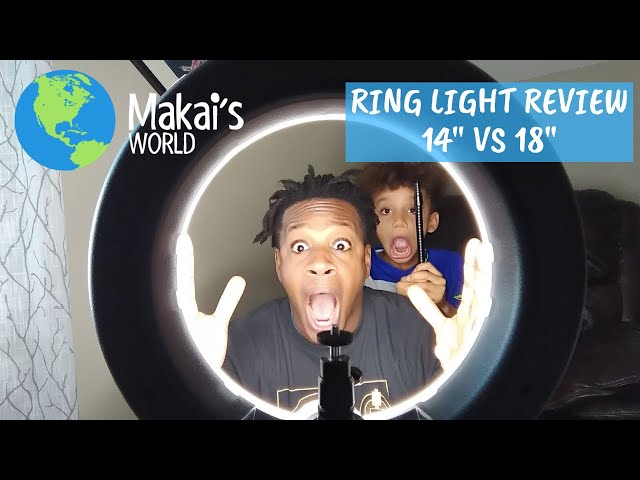 What ring light size should you use?
Everyone is going to use their ring light for different reasons so make sure you're clear in your thinking before you make a purchase. Bigger is typically better is you want to protect yourself in the future should you end up using the ring light more than you expected.
That being said, you don't want to buy a 22-inch ring light only to find you don't have the room to store it properly, thus causing yourself more headaches than it was worth.
For selfies and portability, you don't really want anything bigger than a 8-inch ring light. Any bigger and you'll struggle to take it out and about with you and clipping it onto your phone could be a nightmare.
For use in a home or studio setting, ring light sizes anywhere between 10 and 18-inches are among the most popular options. 10-inch ring lights are incredibly popular as they are some of the most affordable on the market and don't take up too much space when packed away either.
For professional studio use, you're going to want to go even bigger, so anything above 18-inches would be advised. It could, however, depend on the size of the space you are working with as you want to make sure your lighting is even. Additional lights or ring light alternatives could be useful in this situation.
Still have unanswered questions regarding ring lights? You can check out some of our other useful guides such as 'do ring lights overheat?' and 'how to set up a ring light'