The Acer Aspire 3 is easily one of the best laptops you can buy today for general everyday use. I wouldn't blame you for thinking such a statement is quite bold but I'm a strong believer in Acer as the best budget laptop brands in the world and the Acer Aspire 3 is their magnum opus when you take into consideration build quality, performance and price.
There is still an argument that if you're looking for a laptop under $1,000, a Chromebook might be the best way to go, but this is madness as the leap from standard Chromebooks to a premium everyday Windows laptops is still huge.
When it comes to the Acer Aspire 3, it's a laptop that isn't going to resonate with those who are already using premium machines because you're used to a higher level of performance but for people picking up their first laptop, looking for one to get them through school, or are upgrading from a laptop that is five to ten years old, it will feel like a massive leap in technology. Here's why I really grew to appreciate the Acer Aspire 3 and really believe it's the standard that all budget laptops should aspire (sorry) to replicate.
Here are the specs of the Acer Aspire 3 (A315):
| | |
| --- | --- |
| | Acer Aspire 3 (A315) Specs |
| CPU | Intel Core i3-1115G4 |
| GPU | Intel UHD Graphics |
| RAM | 4 GB (Up to 8 GB) |
| Display | 15.6-inch. 1920 x 1080, 16:9 |
| Storage | 256 GB SSD |
| Battery | Up to 9 hours |
Maximum value with minimal effort
In no world am I going to claim that the Acer Aspire 3 is punching above it's weight class with better and more expensive laptops so if you're after unreal performance for a fraction of the cost, you'll likely need to search second hand markets. What Acer have done with the Aspire 3 is created a no-thrills machine that does what it advertises and keeps costs down without any sacrifices.
Where you would normally see a reduction in screen quality, you instead have a full-HD 1920 x 1080 resolution display with IPS and ComfyView technology. There is still a 720p webcam built in to make sure that calls to the family or for working from home are still a breeze.
The dual-core Intel i3 CPU means you can get away with a decent amount of multi-tasking on the Acer Aspire 3 too. Long have people avoided i3 processors under the guise that they simply cannot provide the performance needed for modern computing but that is far from the case. Just 256 GB of SSD storage might seem like a huge limitation but it really just challenges you to think about to best utilize the space you have. naturally, if you're worried, you can always invest in an external hard drive to expand your storage if you deem it a requirement.
The form factor of this laptop is also something to be admired. In a market where being the thinnest and lightest product is 90% of what people care about, the Acer Aspire 3 manages to keep the price down all while weighting less than four pounds and less than one inch thick. Overall the build quality again feels like it's had care and attention
My only gripe with the Acer Aspire 3 on the hardware front is the fact that it hasn't adopted the Intel Iris Xe graphics yet but we hope this will be the case in future iterations.
Everyday performance without the fuss
The Acer Aspire 3 is the ultimate everyday Windows laptop. It's built to complete those simple tasks you ask of it like watching Netflix or YouTube, browsing the web and even working from home.
Don't expect to be able to carry out any level of gaming or content creation here unless it's cloud based. GeForce Now is a great option now that Google Stadia is dead and buried. With content creation you would certainly need external storage to mange your files but in general, the performance wouldn't be great over long sessions, even if you reduce the background tasks.
Acer do tend to include a bit of bloatware with their laptops so it's essential that you identify this and remove it as soon as possible to ensure the best start-up times and general performance levels.
Regardless, the general speeds of the Acer Aspire 3 is admirable considering the hardware you're working with. Some of the reviews I've seen from customers who purchased this laptop actually tell the story perfectly. those who rated it below five stars tend to use the fact that 'the get what you pay for' as a reason to take away credit.
In reality, if a laptop that you spend $500 delivers the expected performance of a $500 laptop, I'm not too sure what else you can ask for.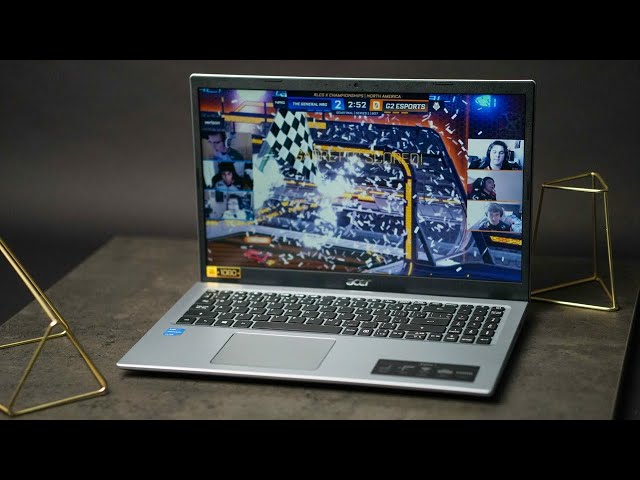 Review summary
Not only is the Acer Aspire a fantastic everyday laptop for $500 but if you buy at the right time you can find yourself paying a lot less than this and really getting ultimate value for money.
Consider your needs before making a purchase, but if you need an everyday machine that's reliable and doesn't cut corners, the Acer Aspire 3 is the laptop you're looking for.