If you're someone who is active, who enjoys going hiking, biking, swimming or playing any sport whatsoever, then you're going to love the newest version of the GoPro. When it comes to taking the perfect action shots and videos, the GoPro Hero 11 is your new best friend.
I initially purchased a GoPro camera because I spend a lot of my time, both at home and while on vacation, in the water. I needed something to shoot underwater photos and videos. And while it's an amazing waterproof camera, I've come to love it on land as well.
The picture quality you get from the GoPro Hero 11 Black is nothing short of amazing, especially when you consider its compact size. It's small enough that it ​​fits in the palm of your hand. Without a case, it's less than 3 inches by 2 inches meaning that you can take it anywhere.
It shoots incredibly clear photos and stable videos. One of the features I use a lot is the screen capture from a video. This removes the need to try and capture the perfect photo. You simply film a video and then select the ideal frame for your photo.
Should you wish to shoot videos for TikTok or Instagram Reels, you are able to set your GoPro to film vertically. You will need to get a vertical case that is meant for this application. Alternatively, you can set the camera to film at an 8:7 aspect ratio, which captures a more vertical field of view without having to rotate it.
The GoPro Hero 11 Black comes with everything you need to get started: the camera, a carrying case, one Enduro rechargeable battery, curved adhesive mounts, a mounting buckle with one thumb screw and one USB-C charging cable. I've long since been a fan of the GoPro cameras, but the features that come with the newest model are a welcomed upgrade.
Pros
Cinematic 5.3K60 + 2.7K240 video,

24.7-megapixel stills from your videos

High-resolution, 27-megapixel photo +v

ery smooth 5.0 video stabilization

Extra-large field of view

Optional horizon lock

Waterproof up to 33 feet

Dual LCD screens

The new hyper-view delivers a wide-angle, 16:9 shot and u

p to 8x slow-motion videos

Three new night modes to capture epic evening shots

Scheduled capture mode so you can sleep in and catch the sunrise
Cons
Required microSD card is not included

The water-repelling lens cover will still occasionally get water spots

Voice commands don't function well in noisy environments
GoPro HERO 11 Black Design
As someone who had an older version of the GoPro, I am in love with the new front-facing screen. This design feature is a game changer when taking selfies since you no longer have to hope that you're in the frame because you can see yourself. No more guessing!
The base model is good enough for me and I find it to be fantastic. However, if you're a content creator who films a lot of YouTube videos, you may want to check out one of the available upgrades. The Max Lens Mod upgrades the performance of the GoPro with Max HyperSmooth for unbreakable video stabilization and Max SuperView for the widest-angle shots.
If you're super serious about your video content, you might be interested in the Media Mod. This claims to transform your Hero 11 camera into a production powerhouse by adding a directional microphone, an HDMI port, cold-shoe mounts, and more so you can up your creative game.
The GoPro Hero 11 Black is compatible with over 40 accessories so the sky's the limit when it comes to when, where and how to use it. So far, my favorite accessories include the helmet mount, the chest mount, a floating handle and a tripod handle.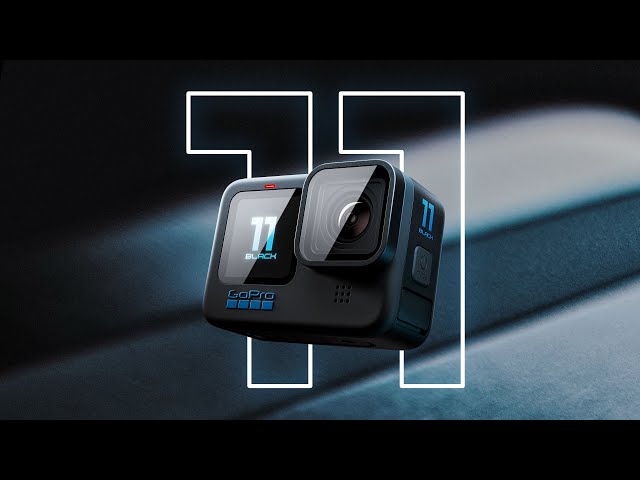 GoPro HERO 11 Black Performance
GoPro's one-click video record feature makes it one of the easiest cameras to use, especially when you're out adventuring. Whether I'm on the mountain snowboarding or in the ocean snorkeling, the fact that I can hit one button to start recording is amazing.
If you are using your GoPro Hero 11 Black in the water, you may want to lick the screen first, then shake it in the water to ensure you don't get those pesky water spots. And yes, licking the screen actually works. I have tried it and can attest to its validity and the fact that you won't get water spots on your screen.
The wide variety of settings for both photos and videos is nothing short of incredible. It doesn't matter if you want a wide-angle photo or a super slow motion video, you can accomplish both with ease.
I also love GoPro's voice commands. Simply telling your camera to shut itself off is pure genius. These don't always work if you're in a noisy environment, so you do have to be aware of that. I once filmed for 15 minutes until someone told me I was still recording – and I was already at the pub! Oops.
Another great performance feature of the GoPro Hero 11 Black is the auto upload and highlight videos it creates for you. If you like the highlight video, the work is done for you.
Should you buy the GoPro HERO 11 Black?
In a word, yes. It is the ultimate adventure camera. It's durable, waterproof, takes sharp photos and films incredibly high-quality videos.
For approximately $500, it might sound like a lot of money for an adventure camera, but when you compare that to the price of any DSLR or even the latest cell phone, it's actually great value for your money.
The GoPro Hero 11 Black is the only action camera you need. Whether you're on dry land ziplining or downhill biking or getting wet and wild with a water-based adventure sport, the GoPro is the ideal camera to capture you in action.
Verdict
I absolutely love my GoPro Hero 11 Black and recommend it to anyone looking for a waterproof adventure camera. It has traveled the world with me and taken some of the most epic shots. When I lost my GoPro Hero 8 in some crazy waves in Mexico, I didn't hesitate to immediately replace it with the newest model.
GoPro Hero 11
The GoPro Hero 11 Black is the ideal companion for all of your adventures, water-based or otherwise. Its horizon-lock and video stabilization are both incredible. There is no comparison between videos shot on my iPhone to those filmed on the GoPro. If you're into adventure, then the GoPro is your ideal sidekick.