In the world of live streaming and content creation, lighting is key. A well-lit subject not only appears more professional but also conveys the intended mood effectively. Catering to this, Elgato, a trusted name in the streaming community, introduces the Elgato Ring Light. A versatile and high-performing tool tailored for professional and budding streamers.
But the latest gadget for your live streaming needs comes at a surprisingly hefty price. So is the Elgato Ring Light a bust or a success? I bought one to test out and give you the honest low down on whether it's worth the price. Read on to learn all about the Elgato Ring Light's features, performance, and value.
Pros
Color range
App and product integration across Elgato and Corsair
Desk stand and high options
Built-in camera mount
Cons
Elgato Ring Light Performance
Let's get right into it. How does the Elgato Ring light perform? Generally speaking, pretty well! The Elgato Ring Light boasts a high level of performance in terms of brightness, versatility, and control. It features 160 OSRAM LEDs that emit 2500 Lumens. Perfect for providing brightness suitable for a wide range of settings.
It's important to mention the adjustable color temperature here that ranges between 2900-7000 Kelvin. That's a pretty wide range that allows for fine-tuning the light's hue to achieve the desired mood or effect. A very useful plus for vloggers, bloggers, and YouTubers aspiring to become the next viral sensation.
The light is operated via Elgato's Control Center software, which precisely controls the brightness and color temperature. The level of customization offered by the Elgato Ring Light is invaluable for creators who want to adjust their lighting setup quickly and easily.
Elgato Ring Light design and build
I have got to give credit where credit is due! The Elgato Ring Light is a solid build that speaks of quality and fine craftsmanship. Elgato has prioritized functionality and durability in the design of the ring light.
The glare-free diffusion panel guarantees optimal, uniform lighting in any scenario. Superior build quality is evident in the adjustable telescopic pole that enhances its ease of use. Not only has it worked like a dream for me, but the super high-quality LEDs also ensure longevity meaning I don't have to worry about investing in a new light anytime soon.
The ring light has an outer diameter of 43.2 cm (17-inch) with an inner diameter of 31 cm (12.2-inch) and weighs 1070 g (2.36 lbs). These dimensions make it a comfortable size for desk setups and offer substantial light coverage without being overly bulky.
The fanciest new gadget isn't useful unless it integrates well within your existing hardware and setup. This is just one of many areas where the Elgato Ring Light "shines", pun intended.
Another notable aspect is the ring light's compatibility with various accessories and devices. It seamlessly integrates with Elgato's ecosystem, including popular products like the Stream Deck. That alone makes the Elgato Ring Light an attractive choice for streamers who already use their products.
Elgato Ring Light features
Elgato Ring Light is more than your typical lighting equipment. It's a veritable Swiss Army illumination knife specially designed for broadcasters. Let's break down its key features:
Size and build:

The unit is large with a 17-inch outside diameter and a 12-inch inside diameter. The construction is solid and durable. It lives up to Elgato's reputation for quality.

Lighting capability:

Powered by 160 OSRAM LEDs, it can deliver up to 2500 Lumens of brightness. The Ring Light offers an adjustable color temperature range of 2900 to 7000 Kelvin, which means you can change the mood and ambiance to suit your content.
Control and compatibility: The Elgato Ring Light is Wi-Fi connected, allowing you to control its brightness and color temperature through the Elgato Control Center on your PC or your smartphone.
It seamlessly integrates with Elgato Stream Deck or Corsair keyboards and is compatible with Elgato multi-mount accessories.
Ease of use: Despite the impressive list of features, the Elgato Ring Light is known for its easy setup and use. Its compact size, adjustable angle, and control accessibility make it a favorite among users.
Should you buy the Elgato Ring Light?
The Elgato Ring Light has several distinguishing features that make it a competitive choice among other ring lights in the market. For instance, the Neewer 20-inch LED Ring Light and the Qiaya Selfie Ring Light are popular due to their affordability and functionality.
The UBeesize 10" Ring Light is notable for its versatility and compatibility with smartphones and cameras. However, the Elgato Ring Light, priced at $199.99 sets itself apart with its:
Impressive color temperature range

Elegant operation through physical adjustments or an accompanying app.

Clamp-on desk stand and adjustable height

Built-in camera mount

Remote control capabilities
Of course, there are cheaper options, like the UBeesize 10" Ring Light, but they don't offer similar brightness, color range, or product integration. Overall, for those prioritizing quality lighting and product integration, the Elgato Ring Light justifies its price point.
Despite the numerous positives, the Elgato Ring Light has drawbacks. I could argue that the high price point and the absence of a desk stand base could hinder it in various situations. The clamp-on stand is also considered inconvenient for certain setups, and the lack of compatibility of the ball mount with Elgato's flex arms is another sticking point.
If you're prepared to invest in a quality ring light that offers both versatility and superb performance, the Elgato Ring Light is a worthy contender. Despite some operational challenges such as the slightly cumbersome mounting system, its dynamic controls and seamless integration with other Elgato and Corsair products make it a valuable tool for streamers.
The Elgato Ring Light still holds its own compared to other Elgato lighting products. While the Key Light Mini, Key Light Air, and Key Light also utilize edge-lit LED technology and offer a similar color temperature range, they each have unique features that are narrower than those offered here.
The Key Light, for example, boasts the highest brightness levels at 2800 Lumens, but the ring lights strong suit lies in its soft and even illumination, which is key for reducing eye strain and improving overall aesthetics.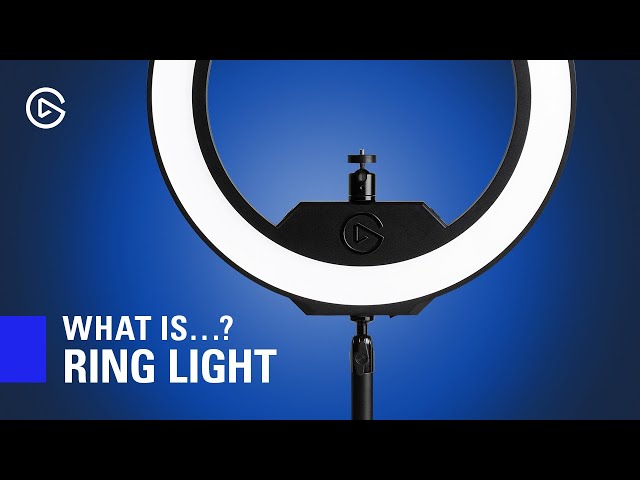 Final verdict
The Elgato Ring Light stands out in the crowd of live-streaming lighting solutions with its impressive brightness, wide color temperature range, and intuitive controls.
It's a premium product that justifies its high price with top-notch performance and quality. The Elgato Ring Light is a worthwhile investment to elevate the quality of your content and make your lighting setup more professional and efficient. I'm smitten!
Elgato Ring Light
Despite sitting at a higher price point than many of its competitors, there is every reason to want to spend a little bit more to have access the full set of features that the Elgato Ring Light offers. This is the perfect ring light for those starting out with streaming as a hobby or true photography/videography enthusiasts who are searching for the perfect lighting in all conditions.