I'll admit that I've often overlooked Acer when it comes to their commercial laptops but the Acer Aspire Vero 15 has well and truly put me in my place. Not only does Acer manage to bring an eco-friendly approach to design, but there are next to no compromises made in the laptop overall and it sits comfortably among the best laptops I've used in the last year.
This isn't a standard budget or everyday laptop, it just feels like something far better. The Acer Aspire Vero 15 is surprisingly capable for just about any task you ask of it although it has limits, you can push it quite far before you reach them. I would find it very hard not to recommend this laptop to anyone but allow me to go into more detail as to why this is the case.
But first, here are the specs for the Acer Aspire Vero 15:
| | |
| --- | --- |
| | Acer Aspire Vero 15 specs |
| CPU | 13th Gen Intel Core i5-1335U |
| GPU | Intel Iris Xe |
| RAM | 8 GB |
| Display | 15.6-inch full HD, IPS, 1920 x 1080, LCD |
| Storage | 512 GB SSD |
| Battery | Up to 9 hours of use |
While there are adjustments that can be made to the Acer Aspire Vero 15, the above specs are those that we were physically able to test.
Pros
Incredible design
Eco-friendly
Unrivaled power for a reasonable price
Super versatile
Cons
Basic display and speakers
Design and aesthetics
I have to start with the overall design of the Acer Aspire Vero 15, because I was truly blown away by the consideration that were made to ensure this was an eco-friendly product. Like with the first few electric cars that were ever released, I assumed that Acer would go too far with certain design choices to make it abundantly clear that this is a laptop designed with the planet in mind.
This isn't the case, however, as the final product is simply a well-designed and very attractive laptop that will certainly trigger intrigue from anyone who sees you using it. The decision to use recycled materials gives the Acer Aspire Vero 15 a unique look that might take some getting used to, but is easy to appreciate and I certainly fell in love with it over time.
The impact that this has is that the CO2 emissions produced when manufacturing the laptop have dropped by 9%, a significant figure that shows that Acer are committed to this fantastic cause. Going back briefly to the recycled material usage, Post-Consumer Recycled plastics account for 40% of the chassis, 50% of the keycaps and power adaptor.
The little touches also go a long way to making the Acer Aspire Vero 15 feel like a laptop worth way more than you'll pay for it. It could be the 'Aspire Vero' or 'For Planet Earth' engravings that can be found on the chassis and hinge respectively or the well placed fans that allow for great cooling over long periods of usage. You'll also notice the reversed R & E keys that are also green in color which are there to represent the popular Reduce, Reuse, Recycle call to action.
Yes, the display is probably quite basic but we're not quite in the era of the OLED display just yet and a well executed full-HD display is still more than viable on modern laptops.
One big advantage it does have is the wealth of ports. The Acer Aspire Vero 15 has 2 USB-A 3.2 ports, 2 USB-C 3.2 ports, a HDMI port, a 3.5mm jack, and a Kensington lock. There also appears to be a traditional AC adaptor port but the charger included with the laptop is a USB-C one.
Performance and power
When it comes to the power and hardware included with the Acer Aspire Vero 15, I was once again pleasantly surprised by just how much you get for your money.
A 13th Gen Intel i5 CPU pairs wonderfully with the Intel Iris Xe GPU, a combination commonly found in many great laptops over the last few years. Pair this with 8 GB of RAM, which is expandable up to 16 GB and you've got everything you could ask for under the $1,000 price point.
You'll have no issue with intense web browsing, watching Netflix, performing basic creative tasks and even entry level gaming! That's right, you can easily run less-graphically intense games like Valorant, League of Legends, and World of Warcraft at medium settings and have a really smooth experience.
I've already mentioned the standard display, and this is the same for the speakers which have no third-party improvements but are still more than adequate. A 1080p webcam was a huge upside though, especially in the modern world of working from home. On top of this is Acer's PurifiedVoice and PurifiedView which can digitally enhance your in-call video and audio experience.
The battery life is advertised at around 11 hours but in my personal testing, under average use (web browsing and photo editing), I was only able to squeeze 9 hours at most from a full charge.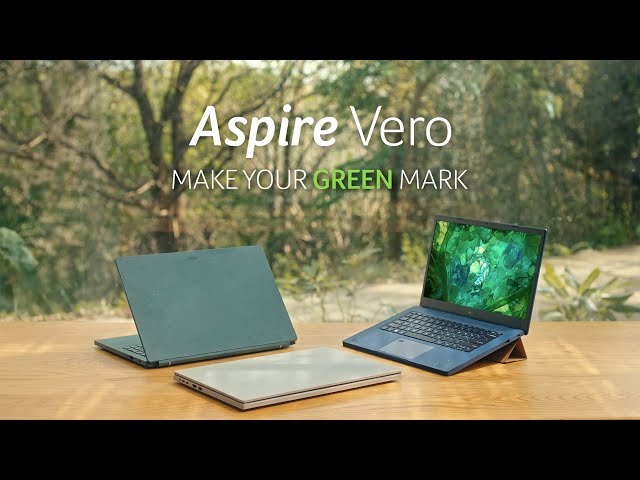 Verdict
From the moment I started using the Acer Aspire Vero 15, I was blown away by just how much thought had gone into the visual and technical design.
It would be fair to assume that a laptop that retails for under $750 would make a ton of sacrifices to achieve such an affordable price in today's market, but the more time I spend with this laptop, the harder it is to find any major flaws, faults, or compromises.
A simple and comfortable laptop to use in any situation for any amount of time, the Acer Aspire Vero 15 might not be most people's first choice when it comes to shopping for a new laptop, but the reality is that it should be on top of your list!
Acer Aspire Vero 15
A stunning innovation within the laptop space, Acer have managed to create a powerful eco-conscious laptop that doesn't make any compromises and better yet, feels appropriately priced.